Spell the What?
Spell the Beans is a challenging new word game for iPhone and iPad where you place letters on randomly spilled coffee beans to make words and score points. For a slightly different lateral thinking take, drop letters into shiny bubbles of specially spilled hot coffee. Bubbles or beans – touch some and the words will come.
Not Your Grandma's RSTLNE
Endlessly random bean and bubble patterns, scoring in any direction, and a carefully roasted blend of letters combine for an unpredictable cup of fun every time. Think as much (or as little) as you want. That oohing, ahhing sound you hear is your brain cells thanking you.
Spill. Spell. Savor. Repeat.
Chill Your Game
Nobody here but us beans and your brains. No billowing fireballs, no epic swordfights, no race against time (not to mention no ads, tracking, or data collection. You're welcome). Letters come up one at a time, and you choose where to put them. You'll be hard pressed not to score, even tapping randomly. If you can tap, you can play.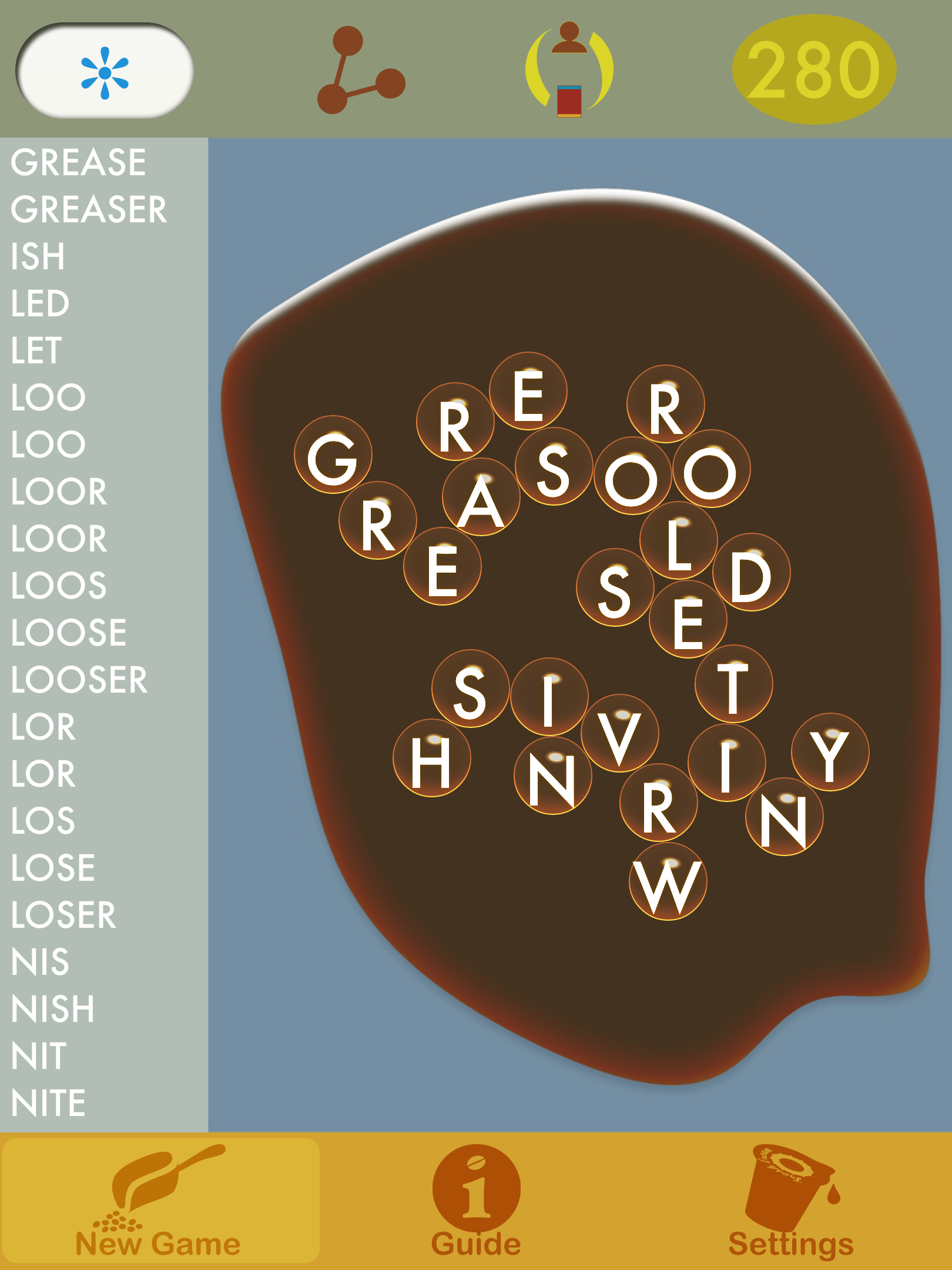 Come for the Coffee. Stay for the Play.
Grab a stool, cool your cuppa on the counter, and check out these strangely magnetic coffee beans and nifty spilling action we've steeped into this java. These beans and brew leave our training grounds disciplined, dedicated and fearless. Ready to spread in any and all directions to give you endless spilling and spelling pleasure. And nine out of ten one-year-old experts recommend our spilling technique for their siblings who spill food.
Simple. Classic. Timeless.
And you can play with your food.
Just tap and place letters anywhere on the field of beans or bubbles and see how many words you can make. You're not finding words that are already there, you're putting letters where you choose and growing words from scratch. Word forming as opposed to word finding. Letters to place come up one at a time. And we've got a spicy mix of letters with attitude lined up for revenge for all that coffee spilled on keyboards. It had to happen sooner or later. Call it words over coffee.
Scoring and Gameplay
A Truly Challenging Word Game:
Outdo Yourself,
Or Take Us On.
Choose from two ways to play: Try to top your highest score, number of words, or longest word while going solo. Or challenge Blu Yonder, a built-in opponent that tries its hand with same set of letters. Blu Yonder may amuse or amaze, but will always keep you on your toes. Recognizable by the cerulean blue bar at the top of the screen, it's designed to be beatable, but also to turn out scores ranging from pedestrian to gobsmackingly high.
Words out of nowhere
Always hated spelling? No problem – leave the bean counting to us. Without much more effort than a very finite number of tap-happy monkeys, you'll be making words you didn't even see coming. The positions and letters are different every time, often forming every-which-way webs of words, so gameplay is always invigorating and satisfying. Call it multilateral thinking keeping you open to more than just one path of action. Wake up, branch out, and spell the coffee.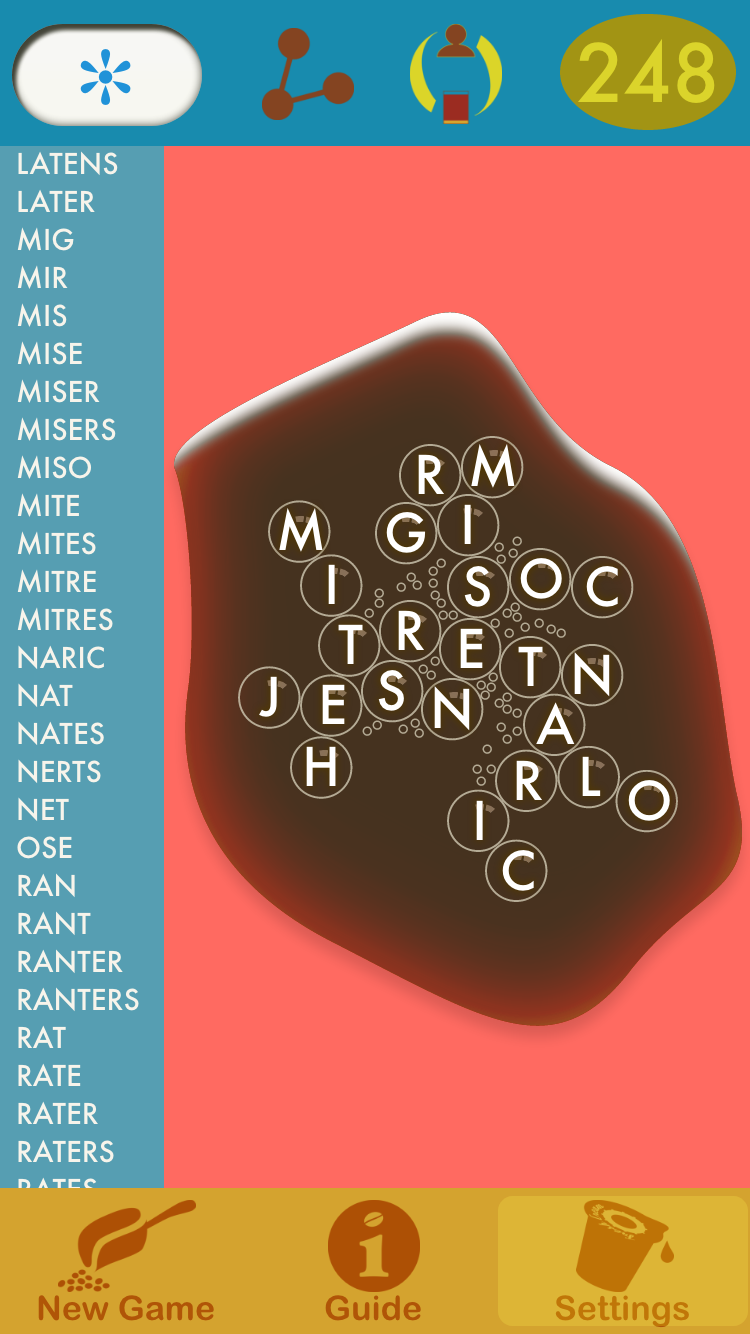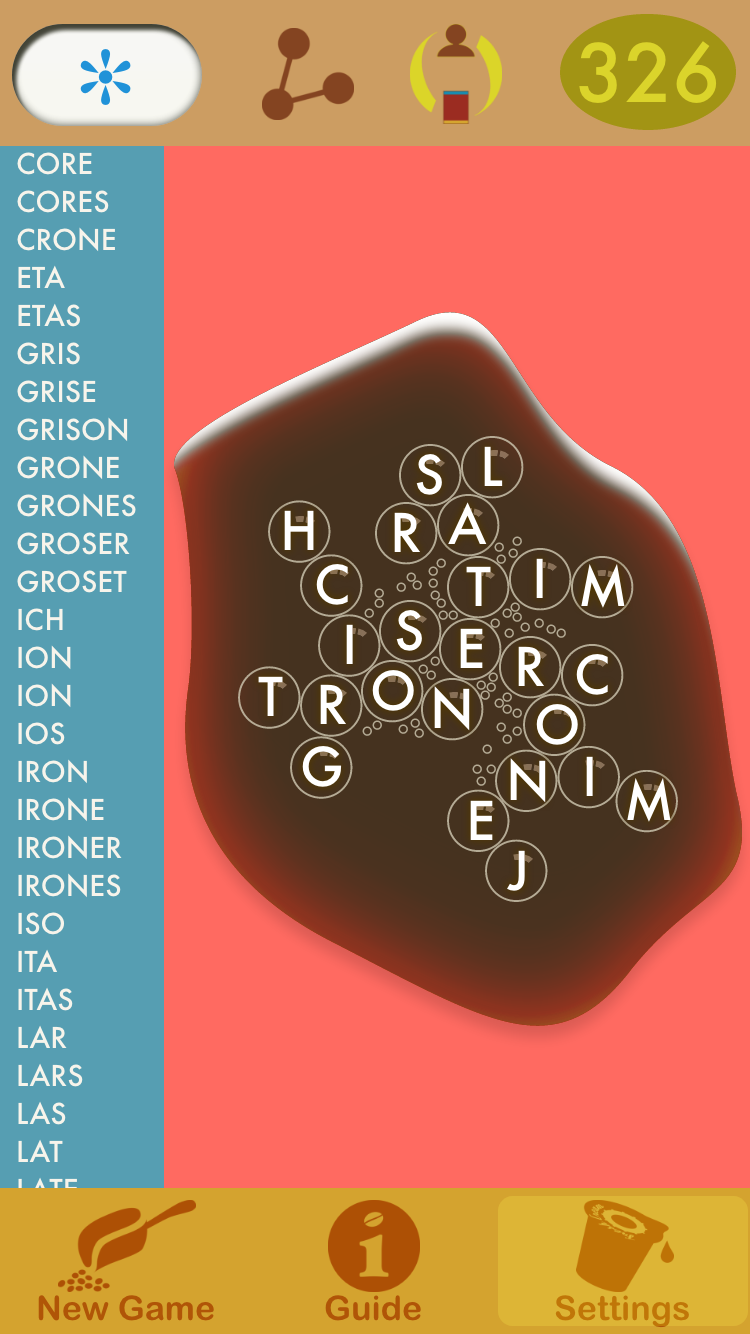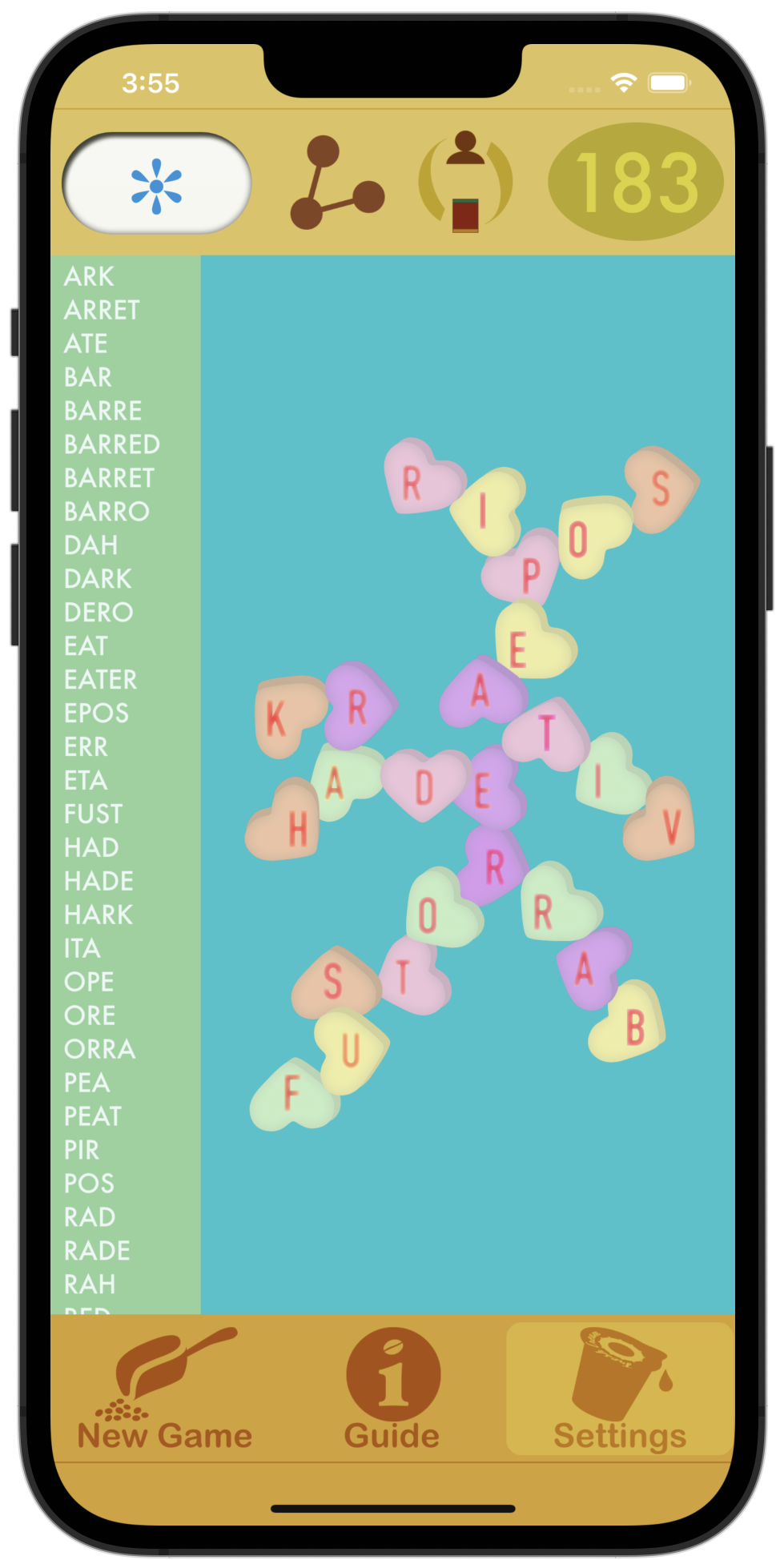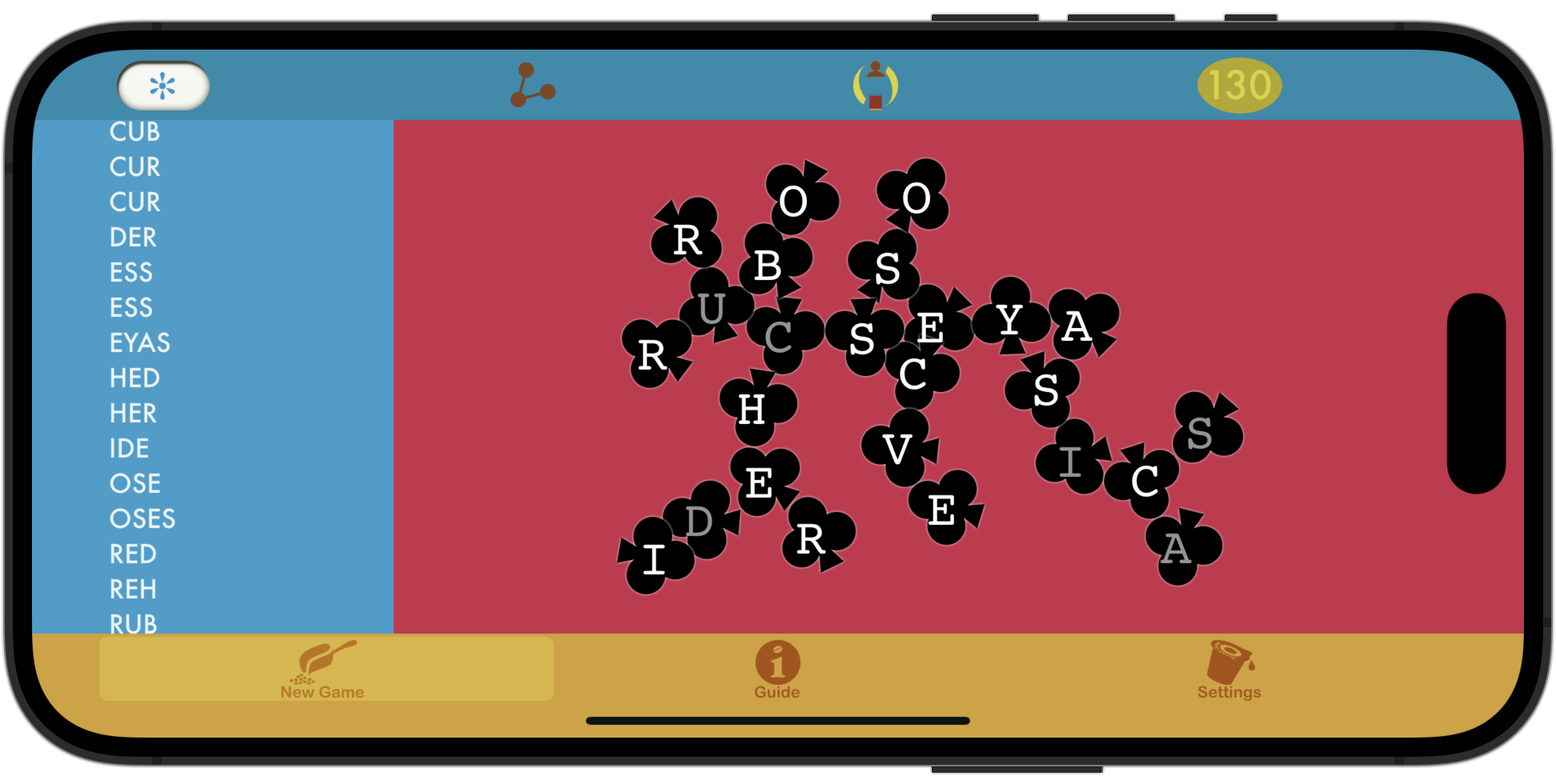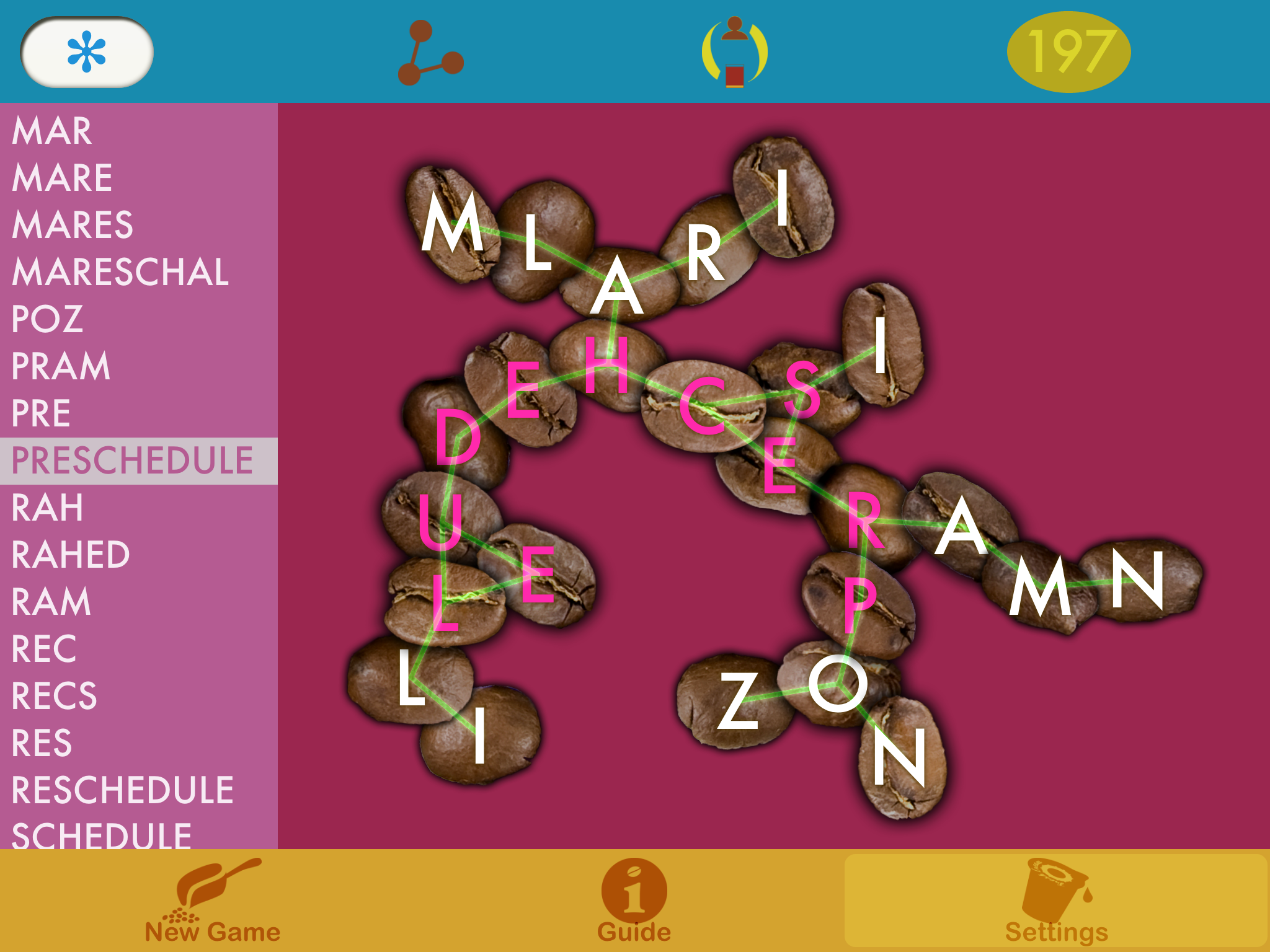 Bubbles or Beans.
Pour Spelling
Either Way.
Designed from the beginning to support a variety of looks, feels, and rule variations, Spell the Beans offers multiple modes to create random spots to place letters in: The original gives you branching rich coffee beans served up with a healthy portion of old-school skeuomorphia so you can play like it's 2009, with viewing options including helpful lines showing which beans are actually connected. In subtle contrast, Spell the Coffee mode pours out carefully controlled spills of hot java with bubbles that connect and scrunch a little more tightly than the beans, offering chances for higher scoring. In this mode, Blu Yonder tends to have more consistent and beatable scores.

And now, enjoy our latest modes. Love Letters lets you stamp letters in candy hearts, with bonus points for different colors. 8-Spot starts you out with 5 to 8 randomly placed letters to change up your game. And now use power letters to boost your score with Cyrano!
Classic button-down ease
Dragging almost anywhere (not just awkwardly reaching across the screen) will highlight your words not only in the list, but in the beans or bubbles themselves. Long-pressing New Game brings up a handy Game Manager that lets you switch between modes, and order them by preference. And to suit your lighting and mood, choose from among 50 color schemes, muted or bold. As well, when you finish a game, get more eyeballs on your results – current game, screenshot, running stats, any or all – by sharing on social media. But also, we hope, get a little sharper for whatever you do all day. For a closer look, check out videos and screenshots below.
See screenshots
See videos
Feel the Freedom.
To get started, just tap any coffee bean to place the first letter. Then tap another bean, and another. There is no "right" answer. It's all up to you. You'll see words appear in the list as they're formed, and be moved to make more. Your score may go up little by little, and sometimes with just one tap, it'll jump by the truckload as things fall into place in a sweet payoff. When you're done, tap the switch icon at the top and see how Blu Yonder did with the same letters and beans. Use the info button dotted with the coffee bean for rules, instructions and pointers. And if you're interested in deeper advice on improving your game, check out our tips.
Staying power
Tired of games that tend to tread over the same path? Word workouts that check all the boxes but start to feel constricting after a while? If you want a challenging word game that really will keep you stimulated time after time, you'll love Spell the Beans. A new twist in word gaming for the long haul, there really hasn't been a game quite like this up to now. Make it part of your day, a real lasting original. Try it today.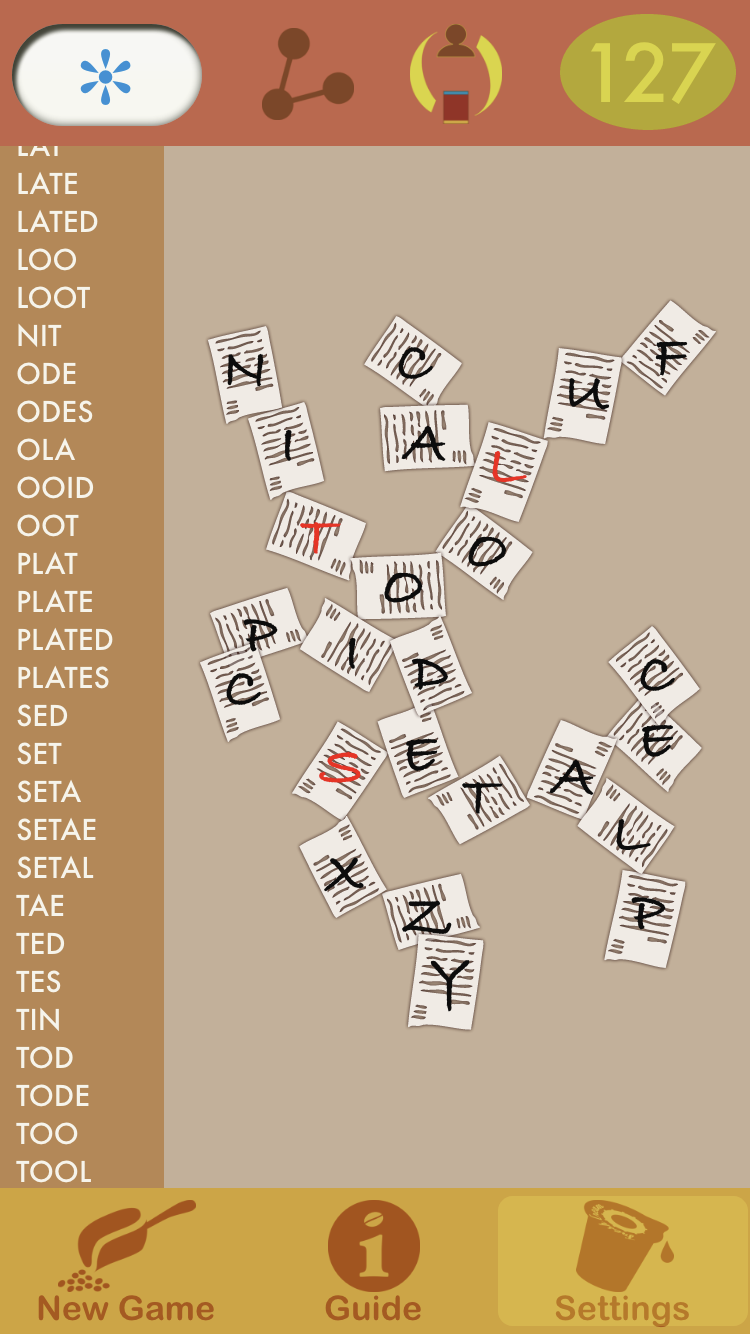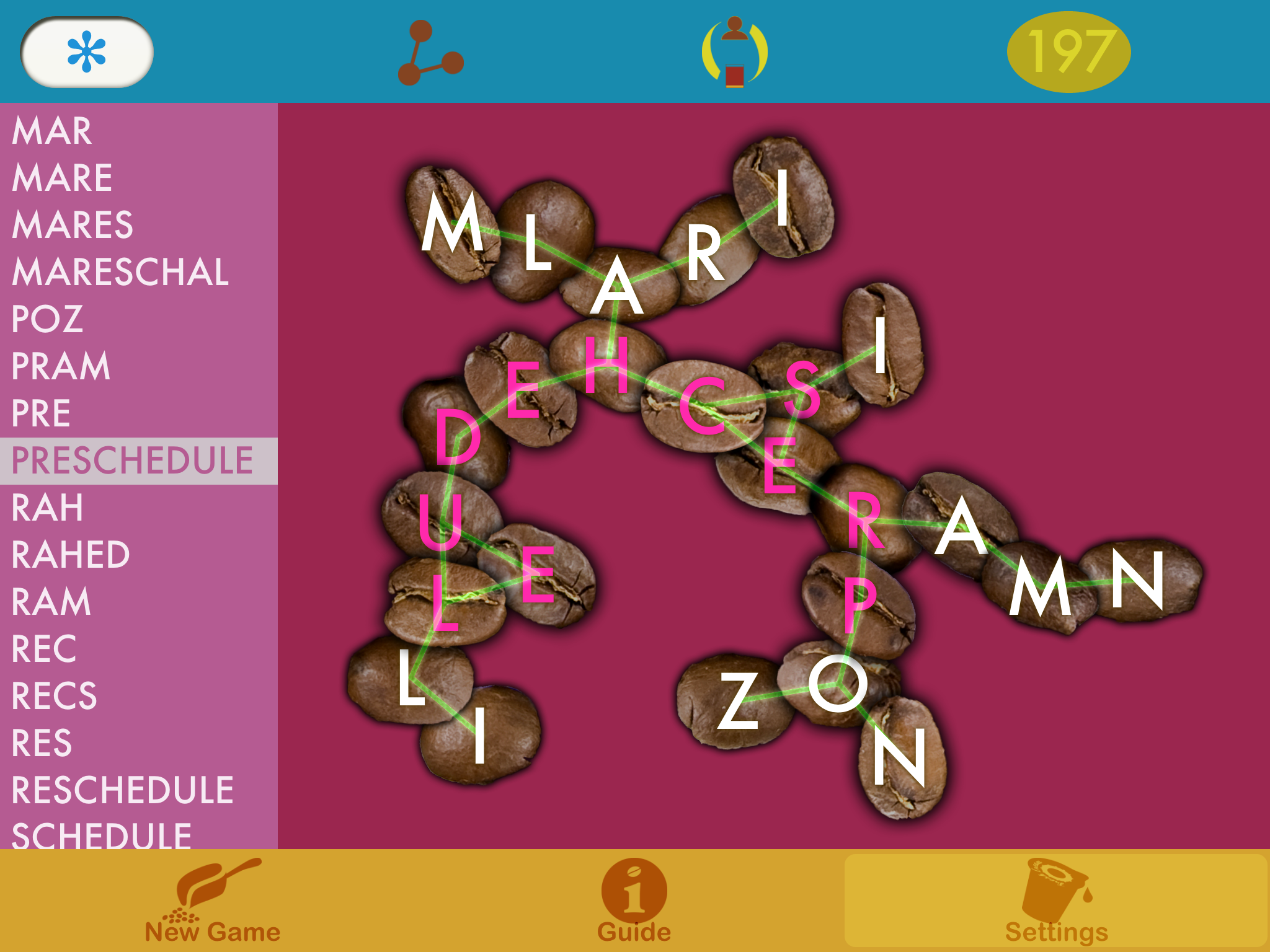 Apple, the Apple logo, iPhone, and iPad are trademarks of Apple Inc., registered in the U.S. and other countries and regions. App Store is a service mark of Apple Inc.